Bounty Hunter Rewards Poll Blog
In the Bounty Hunter design blog we pitched a points system and new rewards for the minigame. We'd like to thank you for your feedback , which we've used to solidify the contents of this post and its poll questions. The core changes since the design blog are as follows:
The legacy BH shop will remain open for a couple of months after full release to allow players ample time to cash in their old mysterious emblems.
All existing items in the BH shop will be re-costed according to the new points system and added to the new shop. This includes the looting bag.
All rewards discussed in the original design blog will be tradeable.
Killstreaks will not end upon logging out.
Since the original design was overwhelmingly popular, we would like to proceed to a beta sometime after RuneFest. In the meantime, we would like to poll the rewards.
The poll is expected to open on
Friday, September 13th
and will close on
Wednesday, September 18th
.
W45 Deadman
In Deadman, players have access to the Bounty Hunter shop, using emblems from Wilderness Slayer to purchase its items. We are in discussion with players from that community about how the rework design should affect this world.


The Rune Pouch and Looting Bag
The rune pouch will remain available in the Bounty Hunter shop after the rework. In the original pitch we suggested that this should cost 250 Bounty Points, but feedback suggested that this price was too high. We've decreased the cost to 150 Bounty Points and may make further adjustments if necessary.
Rune pouches have always been indirectly purchasable with GP because mysterious emblems are tradeable. Post rework, players won't be able to convert mysterious emblems into the points they need to obtain a rune pouch from the BH shop. To avoid trouble with the in-game economy, rune pouches will be made tradeable, as will looting bags, although these will be much cheaper in the BH shop. The rune pouch's Grand Exchange price will match its' current effective value and the looting bag will be inexpensive.
We would also like to make rune pouches and looting bags stackable. This would allow you to accumulate spares, avoiding having to purchase new ones each time they are lost. However, only one of each could be used at a time. We can also make looting bag drop rates scale to the level of Wilderness NPC that drop them.
Poll Question #1
Should players be able to own more than one rune pouch? If this question passes, each one would link to the same store of runes.
Poll Question #2
Should players be able to own more than one looting bag? If this question passes, each one would link to the same store of items.
Poll Question #3
Should the drop rate of the looting bag scale to the combat level of Wilderness NPCs? Looting bags will not become rarer drops as a result of this change.

Elemental Runes
In the design blog we offered "Omni" runes. After your feedback, we decreased the original price of these in the shop and made sure they would be tradeable, allowing anyone to use them. Now called Elemental runes, each one can act as an Air, Water, Earth or Fire rune and can be used anywhere within the Wilderness. These would be tradeable and cost 1 point for 100 runes.
Poll Question #4
Should Elemental runes be included in the Bounty Hunter shop as part of the rework? These tradeable runes can each act as Air, Water, Earth or Fire runes and can be used anywhere in the Wilderness. They would cost 1 Bounty point for 100 runes.

Larran's Keys
With mysterious emblems leaving the Wilderness Slayer loot table, we would like to offer the following additional rewards from Larran's chest to make up for the lost value. If any of these pass, they will be available from both chest locations, but more common from the one in deeper Wilderness.
Dagon'hai Robes
In the Warding poll we offered the Dagon'hai robe set, which received 72% support. We'd like to offer the set again to see if it fares better coming from Larran's chest instead.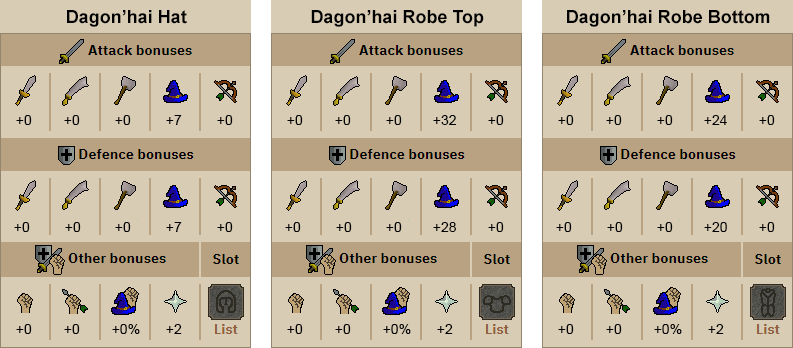 The set would require 70 Magic and 30 Defence to equip.
Poll Question #5
Should Dagon'hai robes be added as a rare reward from opening Larran's chest?

Recolours
In the first Bounty Hunter rework design blog we suggested a number of items that could be recoloured. While some players liked the idea and suggested other items that could be recoloured, the majority were against the idea of offering further cosmetics from the Bounty Hunter shop. In response, these have been removed from the design and won't be polled.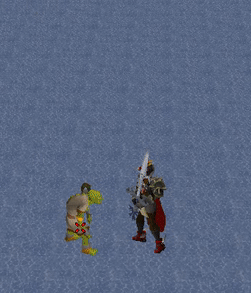 The alternate special attack animations for the godswords had more appeal than the other recolours. As such, we'd like to poll the following question:
Poll Question #6
Should four permanent unlocks be added to the Bounty Hunter store? Each one would change the colour of a godsword's special attack animation swipe to gold. They would cost 100 points each and could be toggled on/off once bought.
Weapon Upgrades
In the rework design, Bounty crates are a reward that are bought with the new Bounty points, averaging 100,000 coins worth of rewards - typically PvP supplies. We suggested that Bounty crates should contain tradeable attachments that improve the viability of certain weapons. We're pitching two weapon upgrades, with opportunities for more to be added in the future:
Poll Question #7
Should an upgrade item for the Saradomin sword be added as a very rare reward from Bounty crates? This would give it a new special attack that costs 60% energy and deals 50%-150% of the user's maximum hit as Magic damage (rolling the user's Slash bonus against the opponent's Magic Defence).
Poll Question #8
Should an upgrade item for the abyssal dagger be added as a very rare reward from Bounty crates? This would reduce its special attack energy cost to 25% and increase its accuracy by 20%.

Ancient Warriors' Weapons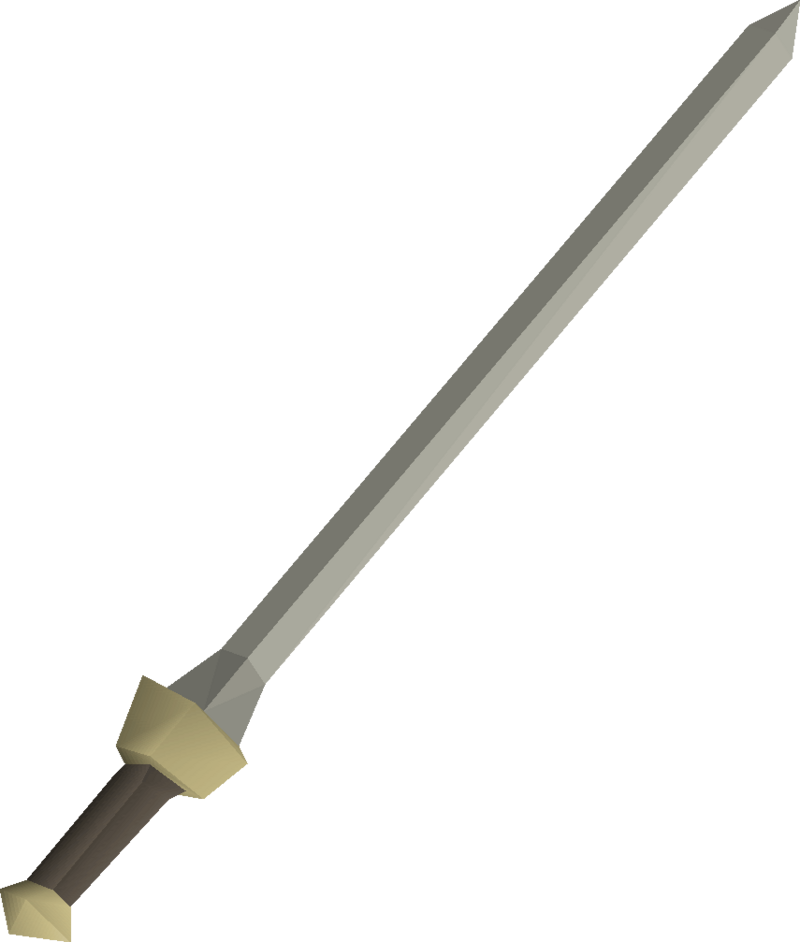 The unique loot table that Bounty crates have a chance to roll on could also contain the Ancient Warriors' weapons that featured in the Deadman Mode tournaments. We still believe that the armours are too powerful for the live game so we are not offering those at this time.
The weapons would have the same stats as they did in Deadman. The only change we would like to make is that Vesta's Longsword will have a 50% special attack cost, increased from 25%. The melee weapons would require 78 Attack to weild, the ranged weapons would require 78 Ranged to weild and Zuriel's staff would require 78 Magic and Attack to weild.
Each weapon would degrade to nothing after one hour of combat. Brand new weapons will be tradeable, but as soon as the weapons are used in combat they will change to a degrading state and become untradeable. If they are dropped, they will convert to 1,000,000 coins.
A player who dies with one of these weapons (with the exception of Morrigan's axes and javelins) will become cursed by that Ancient Warrior. This will also apply to players who drop the weapon manually in the Wilderness. While cursed, a player may not equip the given weapon again until the curse is lifted. The new Bounty Hunter NPC will lift the curse for 1,000,000 coins. This encourages players to use the weapon until it fully degrades rather than "cashing in" by dying on purpose to a friend or alternate account. This condition will not apply to the use of Morrigan's throwing axes or javelins.
Each PvP weapon will be offered individually and they will work only for PvP combat, unless players separately vote in question #9 to enable them against Wilderness NPCs, or in question #10 to enable them against NPCs across the whole game.