It's officially winter, so grab your comfiest blankets and sit yourself down for this week's update! To begin with, you've got a great excuse to hide out in your igloo with Double XP LIVE and a hefty Achievement Rework. Then check out the Community Tab for some chilled-out J-Mod livestreams and some not-so-chill Araxxi fanart
Hold up, hold up! Before you dive headlong into Double XP LIVE, take a moment to check out the Achievement Rework. We've spent 10 months on these extensive changes, so make sure you've brushed up on the latest information before you go Achievement hunting. In the meantime, though...
Double XP LIVE starts November 6th!
Double XP LIVE is back this Friday, November 6th! For those of you who are new here, Double XP LIVE is a ten-day long event where you've got 48 hours of Double XP to spend on whatever skills you like.
It's extra-exciting this time around, because for the first time ever, you'll be able to gain Double XP for selected activities in Archaeology. It's a great time to dig into the skill, and maybe even work your way up to Orthen, our newest dig site!
Free-to-play players needn't feel left out, either! They'll get 20% extra XP throughout their 48 hours.
Double XP LIVE will run from November 6th to November 16th. For more information, check out the dedicated newspost.
Achievement Rework
After 10 months and countless hours spent shuffling categories and triple-checking code, we're pretty proud to have achieved the Achievement Rework, a total overhaul of the Achievement system that'll make it more expandable, more resilient, and much speedier. Read on to hear all the details!
System Work
Visually speaking, Achievements will look and feel much the same as they always have - but don't let that fool you! We've done loads of work under the hood.
To begin with, every single Achievement has been rewritten and retested to ensure that they're functioning as expected. We've changed over 1,165 files, so you can imagine how deep this rabbit hole went!
We've also rewritten the code itself, centralising various functions and moving them to the game engine. In short, this means that the Achievement system is more resilient - no more crashing every time you open the Completionist category!
It also means that it's easier than ever for us to add new Achievements to the game - so keep your eyes peeled!
As you can imagine, this was a huge job, and though it shouldn't affect your RuneScore, given the extent of the changes there's a small chance that it might. If you notice something wrong, be sure to report it in game and we'll do our best to correct the issue.
New Achievement Categories
Every single Achievement has been sorted into one of 8 categories:
Skills
Exploration
Area Tasks
Combat
Lore
Activities
Completionist
Grace
These groups also contain various sub-categories.
Questers will notice that there's now a 'Lore' category, which holds all the Achievements you'll need to get that elusive Master Quest Cape.
Combat achievements are now organised in difficulty order, from War's Retreat up to Final Boss, with a subcategory for each boss (where appropriate, grouped by dungeon). No more tedious scrolling while you try to remember how many more times you need to beat Solak!
You'll also spot that Achievement Diaries are now listed separately under the 'Area Tasks' category. They're grouped by difficulty to help you plan your next steps.
Lastly, the 'Grace' category, which holds any achievements you'll need to complete before the grace period for new content ends, no longer has a sub-category. Now you can see at a glance what you have left to do.
Interface Changes
Lastly, we've made a few improvements to the Achievements interface which should make it feel a bit smoother to use:
Quest Achievements are now visible and ordered by release date.
When 'Show All Achievements' is selected, all chain Achievements will also be shown - not just the last one.
The 'Show Completed' tickbox will now also hide or reveal completed sub-categories, making it easier to see what you have and haven't done.
You may now click any Achievement in the 'You've Almost Finished' section to go directly to the Achievement description page.
Hidden Achievements are now slightly less hidden, and contain a message telling you to play the game more in order to unlock them.

Psst... try snacking on more stroopwafels!

The number of completed Achievements will now be more accurate.
Full Comparison Temporarily Removed
We've temporarily disabled the Full Comparison button, which would allow you to compare your Achievements to those of other players, as this feature needs to be completely rewritten to work with the new Achievement system.
In addition, Full Comparison has been poorly performing since the Achievement system began to hit its operations limit, so it'll remain disabled until we've resolved this problem.
Known Issues
In such a big release, there are bound to be a few problems. These are the bugs we're aware of and working to fix:
The Archaeology Contribution, Discovery, Donation, Research and Restoration chain Achievements do not trigger a pop-up or a Chat message upon completion. Although the visuals are missing, you will still be able to complete the Achievements.
Once you complete these achievements, your RuneScore will not immediately update. Relogging or completing another Achievement that isn't impacted will resolve the issue.
Due to the nature of these bugs, they are unlikely to be resolved until the new year.
Kerapac Track
Today marks the end of the Kerapac Track. The cosmetic rewards are gone, for now, but you can still learn some sneaky tidbits of lore!
Speak to The Curator in Burthorpe to learn more.
Prime Gaming
It's your last chance to grab a Currency Pack and two Umbral Chests from our friends at Prime Gaming.
Next week, you'll have the chance to grab 7 days of RuneScape membership - perfect if you want to dip your toes into everything the game has to offer!
Merch Store
Christmas has come early in the Official Merch Store this month with 10 new lines from Angels Scapes!
Our limited-edition Christmas pin collection includes a Marionette pin for your Toy Box, and, of course, Cracker pins! This year, each Cracker will contain one of three different coloured Party Hats. Lift the hinged lid to see which one you've got!
You can also pick up a brushed gold 'Nice' pin, perfect for that special someone with a great Fishing level.
We've also got new additions to the Skill Cape keyring series! You can now show off your Woodcutting and Firemaking prowess wherever you roam.
Last but definitely not least, we'd like to introduce our all-new line of mobile phone ring holders! Keep your phone safe while you selfie with the Max Cape or the PK Skull design.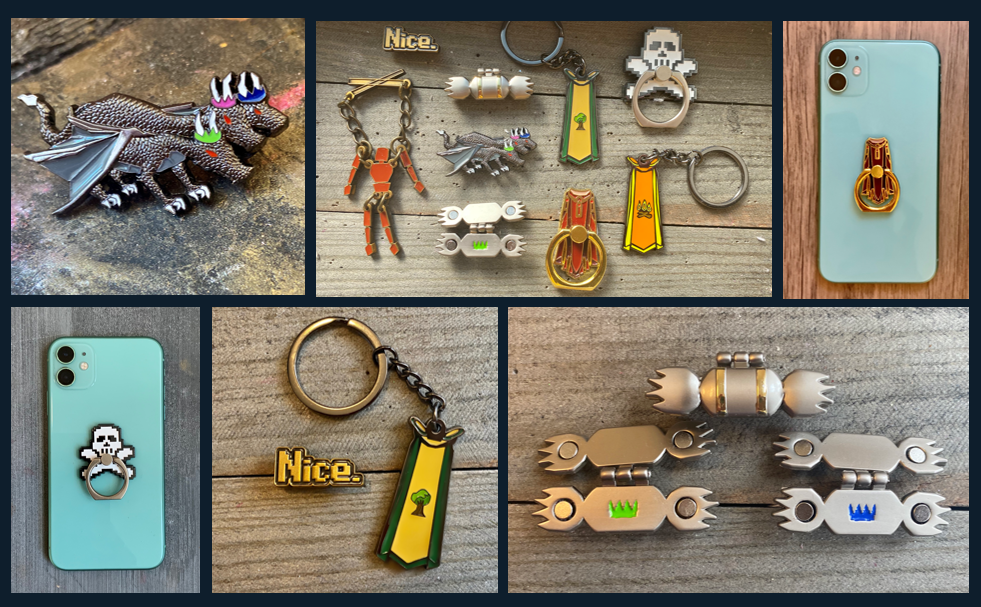 See something you like? Make sure to add it to your Christmas list... or, you know, just treat yourself!
In other Merch Store news, we've added a tracked shipping option. It's just the thing to help you keep track of your holiday purchases.