Welcome, ghouls and ghosts, to an extra-spooky edition of This Week in RuneScape! In our bag of treats this week we've got a Ninja Strike, a Community Tab full of ways to welcome our new friends from the other side (Steam), and, of course, the Halloween Event.
In this week's news, the Ninjas have been busily making quality of life changes to Slayer while Death and friends plan for a spooktacular Halloween event. Let's take a look!
Halloween Event
The nights are getting colder… the darkness is closing in… and this year, Death is determined to get ahead of whatever catastrophically creepy happening fate has planned!
Head on down to Draynor Manor to help Death, Famine, Pestilence and Muncher ensure that this Halloween goes off without a hitch. After completing their tasks, you can help them out a little more each day until Sunday November 8th.
This year's cosmetic rewards include Death's Hood, Death's Scythe, and the ability to take Muncher for walkies all over Gielinor.
Oh, and you might notice that the grounds of Draynor Manor are looking more ghoulish than ever this year! We've also spruced up Death's Office, should you find yourself passing through.
The Halloween event kicks off today, on October 26th, and will last until November 8th. Don't forget your costume!
Ninja Strike 13 - Slayer Quality of Life
This week the Ninja Team have sharpened their kunai and made improvements across the game that will make Slayer better than ever before.
Area Loot Interface
Here's the big news: the Area Loot interface can now be opened even when just one item is on the ground. This was one of the most-requested changes in the Dojo, so we hope you enjoy it! You can toggle the option on and off in the Loot System settings.
Personal Slayer Dungeon
Next up, the Personal Slayer Dungeon has been given its own interface to make moving monsters easier. To access it, you'll need to pay 1,000 Slayer points and then check out the Slayer Master's Ouija Board in the Sunken Pyramid.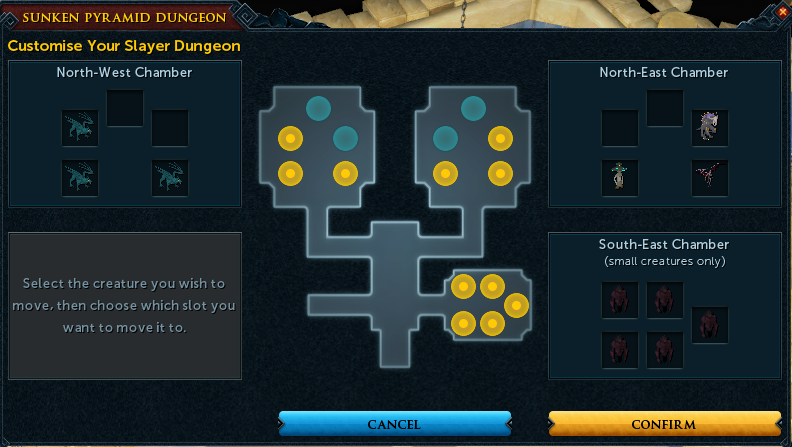 Once you've done that, you'll be able to move monsters about pretty much as you please - although you won't be able to squish big monsters into the smaller chamber.
In addition, monsters with variants will now consistently spawn as those variants in the Personal Slayer Dungeon.
Nex
You can now sacrifice a set of Ancient Ceremonial Robes, 10 million coins and a frozen key to Ashuelot Reis to unlock the ability to access the Nex lobby without the usual item requirements. No more juggling presets!
Boss Respawn Speeds
Lastly, the game will now remember which respawn speed option you selected last when fighting the relevant bosses.
Want more details? See all this week's changes in the Patch Notes Tab.
Kerapac Track
It's your last chance to get your hands on Thok's Hand-me-downs, the Mechanayak, and loads of other amazing rewards from the Kerapac Track!
On November 2nd, the gates to the Kerapac Track will close, so get in quick if you want to complete those last few tasks.
Action Bars
A couple of weeks ago we spoke about how we'd like to provide the Action Bars from Solomon's General Store for free to all players. We know that having four extra Action Bars is helpful and as part of our ongoing commitment to making sure we're providing value in the right places, we decided to make them free forever.
You'll find your new Bars waiting for you when you next log in after today's update. Accordingly, all Action Bars have been removed from Solomon's General Store.