Welcome back, 'Scapers, to a new year of adventure! This year, RuneScape turns 20, and you can find out how we plan to celebrate in the Game News tab. Meanwhile, we've got the first Patch Notes of 2021, and the Community Tab is back with some fabulous fan art. Fireworks at the ready..
We're kicking things off with a bang this January with the first of many updates to celebrate RuneScape's 20th Anniversary: The Grand Party! Read on to find out how you can join in the fun, hang out with the J-Mods, and get yourself some swanky new clothes to party in.
RuneScape Turns 20!
It's hard to believe, but this little game of ours is 20 years old, and we're throwing a massive birthday party to celebrate!
We're not just celebrating our game - we're celebrating all of you. Without our wonderful 'Scapers, there'd be no RuneScape at all. Your passion, dedication, and community spirit are what have held us together all these years - so give yourselves a round of applause and have a big ol' slice of birthday cake on us.
The celebration kicks off with a month-long Grand Party, to be held in Lumbridge Crater - but the fun doesn't end there. Keep your eyes peeled for the prologue to a multi-part, year-long 20th Anniversary Quest series later this month.
Now... I believe you were promised cake?
The Grand Party
Come one, come all, to The Grand Party! Make your way to Lumbridge Crater (you know, the gigantic hole behind Lumbridge Castle) to celebrate RuneScape's 20th birthday in style with your fellow fans. Over the month ahead, we'll be celebrating different aspects of the game by offering buffs and rewards, as well as a juicy 10% XP bonus while in the Crater.
Got nothing to wear? Don't panic - the Wise Old Man has been putting some of that bank robbery money to good use with some fancy duds: have a word with him at the crater to claim your exclusive 20th Anniversary Outfit and Cape.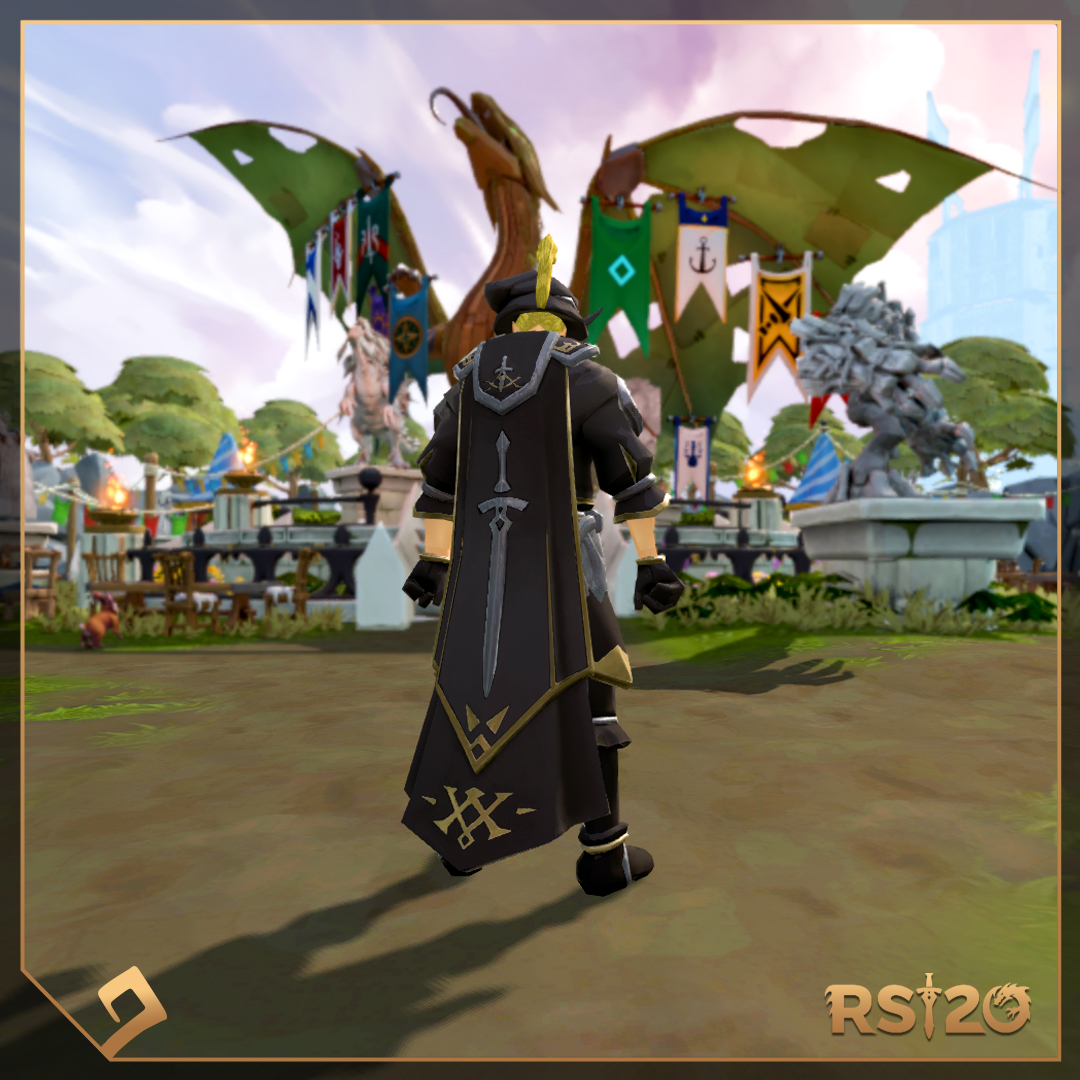 Then we're ready to party! This month-long extravaganza will feature weekly events, each celebrating a different aspect of the wonderful world of RuneScape, featuring incredible bonuses.
This first week is the Celebration of Quests, where you can take part in three miniquests featuring iconic characters from the RuneScape roster. Head to the crater to have a go to earn some special prizes like the new 20th anniversary cake, XP lamps and more!
While you're there, be sure to catch up on some skilling - you'll get a not-too-shabby 10% XP buff while you're training in the crater.
Well, what are you waiting for?
Join the Anniversary Celebrations Today!
What, you didn't expect the J-Mods to sit back and watch you lot have all the fun, did you? We're hosting an Anniversary Hour so we can all party together on RuneScape's big day!
Where: Worlds 1 and 16
When: 17:00 Game Time
RuneScape 20 Merchandise
Get this: you can also celebrate out of game with our range of anniversary merch. Angels Scapes has created a range of collectible pins and keyrings, including the RS Classic Logo Pin (which also comes in an antique gold limited edition), the Bronze Knight pin, a special 20th Anniversary Baroo collab, and a 20th Anniversary Tutorial Island pin that's just perfect for reliving your first steps into the world of Gielinor. Look! The doors open to reveal Lumbridge Castle decked out for its own tiny 20th Anniversary Celebration.
For those of you looking to max your FashionScape, we've got limited edition mystic robe pins in dark, light, and classic blue colourways.
And have you heard about the Mining and Smithing Skill Cape keyrings?
Plus, check out these magical mini runestones, which come in two collectible sets.
Last, but definitely not least, get your groove on with this new gold pressing of the Original Soundtrack Classics album! The track list follows the very first journey you might have taken through Gielinor, and it looks mighty snazzy, too.
Prime Gaming
A new Prime Gaming gift drops on January 5th! This time you'll get five knowledge bombs - nifty little things that when consumed will net you 50% extra XP for a whole hour - and the smoke is Twitch purple, which we think looks pretty cool.
Now, these things come with some caveats: you can't stack the strength of the effect, although you can stack the time. They're subject to the same restrictions as Double XP events, and on that topic, the XP effect doesn't stack with Double XP Live - so there's no point saving them! Lastly, they cannot be banked or traded away.
Premier Club
The season for giving might be over, but Premier Club members can still look forward to a little pick-me-up this month, and indeed, every month for as long as your Premier Club package lasts.
This month, your gift contains:
A Variety Pack
2 pulse cores
1000 Oddments
Don't forget to pick up some bargains this New Year! Until January 31st you can get great deals on all sorts of goodies in Solomon's General Store, including Rory the Reindeer, the Pegasus Teleport, and the Assassin Pack.