Bet you weren't expecting to see the Gazette back in November! Well, when we said monthly, we meant it.
This time we've got updates on Nex, Group Ironman and more! Plus, there's a slew of new player-created content and replies to some of your letters in the latest Postbag from the Hedge.
Let's get going!
Project Status Update
Leagues III: Shattered Relics
We recently announced that Leagues III: Shattered Relics will launch in January 2022. This third incarnation of Leagues will run from January 19th - March 2nd. As we near completion of the project, Shattered Relics has finished the balancing phase of development and the team have been working on the fantastic new rewards, which we can't wait for you to get your hands on!
Group Ironman
Group Ironman is finally here! It's been a tremendous launch and we're absolutely thrilled with the response from you all! It's been positively heartwarming to watch groups of friends, strangers and colleagues making their way through Gielinor together. At the moment, we're working through player feedback. While our immediate priority is fixing errors, we also want to improve some existing features. Here's what we're looking at right now:
Group Storage Space - Is it coming? Absolutely! We want to increase the storage capacity for you, but we haven't quite decided how the Storage should work. For example, how should it be unlocked? Mod Elena is currently working on a design for the Group Storage feature, which we are eager to present to you in the coming weeks! In the meantime, please send us your ideas!
Group Chat and Group Broadcasts - Many of you have asked us to make a private chat channel specifically for your group, and we're working on adding this in the coming weeks. It will work similarly to Clan Chat. We'd love to know what shortcuts you think would be useful for this new channel. We're also going to implement the broadcast system that we currently use for Clans; this will mean that you can opt-in to receiving notifications when a member of the group receives significant loot or achieves a major milestone. Finally, you'll have the equivalent of the Clan Interface with lots of important info. This feature will also allow you to report any inappropriate group names that you may come across.
Shared Group Hall - We're aware there's a huge demand for a shared Player Owned House for groups or, failing that, a customisable instance that can be shared and upgraded. As we've mentioned previously, we wouldn't be able to replicate the entire functionality of a POH, due to the way its code currently works. We have been involved in some discussion and design work to see how it might be possible to create a customisable instance with various popular construction tools. After careful review of your feedback and the work involved, we felt that this project would come at the cost of delivering other improvements to the Group Ironman, as well as the main game moving forwards. Therefore, we've decided to put a hold on this project but that doesn't mean we can't give you something in it's place. What we'd like to do with POH is allow players to enter their group mate's POH as long as they're online in the same world. As always let us know your feedback as we're operating on this basis with your interests in mind.
Steam Client Features
We released our third round of new features for the client recently, adding XP tracking, respawn timers for trees and rocks, the Slayer Helper and much more. We're really happy with the progress made and the feedback we're getting. The focus is currently on addressing the most urgent issues before looking at the fourth set of features.
For those waiting on the updates for Mobile, we haven't got a solid release date just yet, but we can confirm there will be a Beta period between November 24th and December 8th! You'll be able to test out awesome features like:
Buff Bars
Fishing Spot Indicators
HUD Improvements (NPC Information & Combat Styles)
Agility & Slayer Helpers
Chambers of Xeric Helper
Woodcutting & Ore Respawn Timers
Increased Draw Distance
Navigation Tile Indicators
Chat Improvements
And more!
This will be a big improvement to the Mobile experience and we want to make sure we're doing it right, so please sign up for the Beta if you are interested! Successful applicants will only be contacted through their account mailbox. Please be wary of potential phishing scams.
Tombs of Amascut
We want to thank everyone that participated in the most recent Rewards Beta, and confirm that we've worked our way through your feedback. There's no direct update on Tombs of Amascut just yet, but the team are currently discussing the rewards, so expect to hear more in the near future. As for other development news, progress is going well and prototypes are being built for some of the challenge rooms!
Beneath Cursed Sands
For anyone not aware, Beneath Cursed Sands is the next quest in the Kharidian Desert storyline and is planned for release in 2022. The quest is currently in pre-production, and we expect to poll it alongside the Tombs of Amascut very soon. Not much has changed since we last spoke about this project, but we do have a small amendment to share on the requirements. Previously we said the quest would require 55 Smithing, but this has been changed to 55 Crafting.
With Beneath Cursed Sands, we're going to be finishing off the coastline in the south east corner of the Kharidian Desert. With this, we want to respect the lore and thematics established for that area in 2008 whilst also making some tweaks to fit our upcoming plans... no spoilers, but here's a peek at some concept art.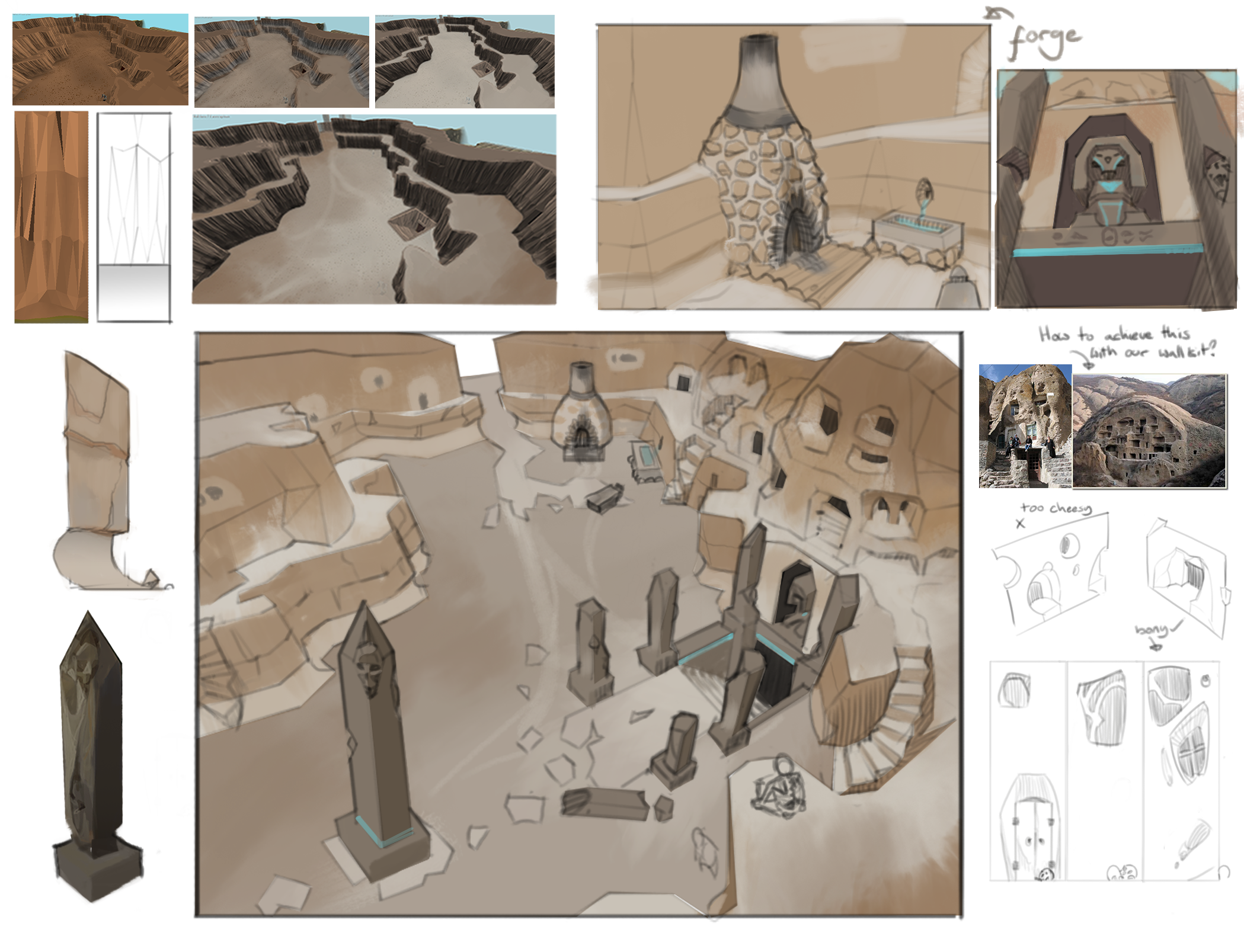 Concept Art from Beneath Cursed Sands.
Nex
Nex is fully in development and the team has been working hard to bring this iconic God Wars boss to Old School. The boss fight is up and running so the focus is now on making tweaks and balancing changes so it suits Old School.
Following the recent Rewards Beta, we've published an updated Nex Rewards blog with all the changes to the original items. This includes:
Torva Armour being introduced instead of Virtus Armour
The Zaryte Crossbow to take the place of the Zaryte Bow
Changes to the Special Attack of the Ancient Godsword
To recap the blog: the Virtus Armour got positive feedback generally, so we aren't scrapping it altogether. We'd still like to introduce it as a reward a little later down the line, and with a few tweaks based on your feedback. You might remember that our original plans were to release Torva later on as well. With the changes in this blog, we now think Virtus would be a suitable reward for a later update.
We've also added some more information about the Blood Essence. Give it a read and let us know what you think of the latest changes!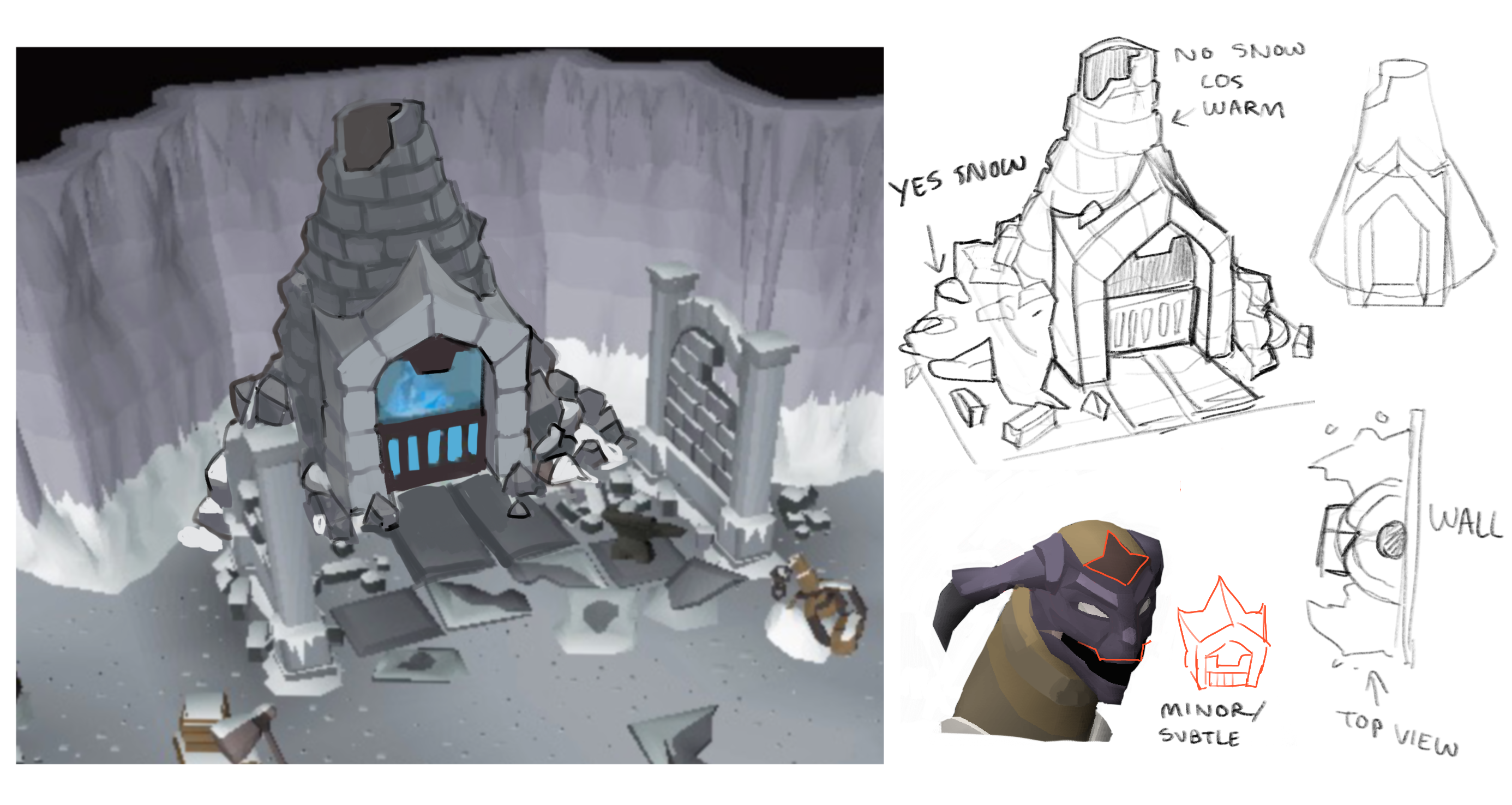 A WIP image of the furnace inside the prison.
Wilderness Changes
The first batch of Revenant Cave changes recently went live. It's regrettable that we haven't yet been able to bring you features like Loot Keys and Wilderness Bosses, but they are going to be very exciting when they do arrive. Unfortunately, these will now not appear in-game until 2022, for which we apologise.
Other features, however, are already being looked into. The next update from this batch will include the Wilderness Slayer Caves improvements and the introduction of a PJ Timer throughout the Wilderness (for both players and NPCs). We don't yet have a concrete date for these, but we'll update you as soon as we have any news.
Deadman Re-Run
In a recent blog we stated that it's likely we'll be able to re-run Deadman Reborn. We also confirmed that we've begun work on a solution that will improve our mitigation against direct network attacks, which is due to be ready early next year. With this in mind, we'd like to schedule a Beta for the re-run sometime around January, with the full re-run to follow shortly after.
We'll provide a firm date closer to the completion of the necessary work. It's important we highlight that while we're confident in our solution, there is of course a chance that unexpected problems will crop up - and should this happen, they'll need fixing before we can officially re-run the finals. Your patience is hugely appreciated.
Old School Economy
Last week, we also talked about the Old School Economy and our efforts to help it by hiring some actual real world economists to help us! Our finding included:
A Grand Exchange Tax of 2% that would be removed from the final sale value. This applies to the seller and not the buyer.
An Item Sink, using the money gained from the Grand Exchange Tax, that 'buys' items from players and then deletes them. The list of items is something we are looking to expand with your help, but at the moment it looks something like this:

Spectral and Arcane Shields
Nightmare Staff and Orbs
Twisted Bow, Elder Maul, Kodai Insignia, Dinh's Bulwark, Prayer Reward Scrolls
God Swords, Armadyl Armour, Bandos Armour, Saradomin Sword, Zamorakian Spear
Abyssal Bludgeon
Kraken Tentacle, Trident
Dark Bow
Smoke Battlestaff, Occult Necklace
Toxic Blowpipe

A literal Gold Sink that you can place inside your Played-Owned House! It will be the single most expensive item to build inside of it.
And last but certainly not least, Additional Bank spaces at the following prices:
Block
F2P Bank Space
P2P Bank Space
Cost (Coins)
1
440
840
1,000,000
2
480
880
2,000,000
3
520
920
5,000,000
4
560
960
10,000,000
5
600
1000
20,000,000
6
640
1040
50,000,000
7
680
1080
100,000,000
8
720
1120
200,000,000
9
760
1160
500,000,000
Total
888,000,000
We hope that this is the start of getting our economy in a more stable place! With your help, it's a process that will continue to evolve.
Leagues III: Shattered Relics - Development Process
by Mod Flippy & Oasis
Leagues III: Shattered Relics may have been pushed back to January 19th, but that doesn't stop us peering behind the development curtain to see what's going on!

With the first two Leagues both using an area unlock mechanic, we wanted to try something new for Shattered Relics.

Despite a lot of brainstorming, we were struggling to come up with an idea that worked, so instead opted for the Fenkenstrain approach - that is, taking the best aspects of the ideas we'd had and blending them together to form a single concept.

One of the themes that really stood out was trading cards, with each card representing a fraction of a Relic's overall power that, when combined, resulted in larger and more powerful effects. The great thing about this idea is that it essentially takes Relics and widens the playing field. Instead of being stuck with a handful of extremely strong Relics for the duration of the League, players instead have numerous weaker but freely interchangeable Fragments that encourage experimentation.
This slight tweak to the formula is a big switch from previous Leagues, but also familiar enough to players so as to be a recognisably 'Leagues' experience.
As you can imagine, putting a League together is no small task, but luckily the team is absolutely fantastic - everyone's willing to get stuck in and solve problems collaboratively. The OGs have only existed as a team for around half a year, but we're so solid it feels like we've been working together for years.
Development was helped by the early creation of what's known as a 'vertical slice' - this essentially means building a small section of the League that's fully fleshed out and feature-complete. So while narrow, it's very deep! The team did an incredible job - in fact, we were blown away by how fantastically it all came together, and even the early builds were hard to put down!
Getting up and running so quickly meant we were able to start playtesting very early, giving us lots of opportunity for balance changes and design tweaks. This also meant that a few urgent changes lurking in the design phase were identified very early on.
One of the biggest lessons we've learned while creating Shattered Relics is the importance of a design that's achievable within a reasonable timeframe. Given an unlimited amount of time, we could have a League with hundreds of Fragments that spans every piece of content across the entire map, but in reality that's not possible. The real challenge has been to create a diverse and interesting range of Fragments within the time available and ensuring we can get the League out the door. Considering this from the beginning really sets you up for success down the line.
This also applies to the rewards. Leagues is played by all types of players: maxed accounts, new players and everyone in between. Everyone should have a reward worth working towards that they can make good use of when the Leagues are over. That's why the rewards for this League range from decent early gear to things you'll use all the way to the end game. An example is the Cannon, which is what we call a 'hero weapon'. You can get it early on in an account's life and make use of it throughout the entire game... provided you can afford to maintain it!
A lot of big steps were taken to make this League feel special, new and refreshing. We hope this is reflected in your experience and that you can create many stories and memories together!
Old School's Ins and Outs
We've had two J-Mods sadly leave us last month, as we say goodbye to both Mod Flippy and Mod Sween. However, we've got a new member of the team to introduce you to in the form of Mod Hornet, so make sure to give them a warm welcome!
Sadly we've said goodbye to Mod Sween (and his incredible lockdown hair) after more than six awesome years. Here's a snippet of what he had to say:
I don't have any profound parting words but I'd just like to say this. Thank you so much, everybody. It's been wonderful, even when it hasn't been. Passions can run high when you're so emotionally invested in something, and that's so true for our community and Old School. I challenge you to channel that passion in a positive way!
Celebrate your fellow community members - you might disagree but it's a shared love for the game that unites you. Support your J-Mods. I've said it before, but beneath the gold crown is a dedicated player, just like you.
You can read his full leaving message and follow his new adventures at @Alec_Sween.
Meanwhile, Mod Flippy leaves this parting message:
It's been an absolute honour working for such a special game, together with this talented and passionate dev team and incredibly dedicated community. I've been fortunate enough to experience something many only dream of, and I'll hold my time here dear to my heart forever.
Thank you for all your suggestions, warm comments, ideas and spicy conversations throughout my time here. I'd say I'm going to miss you, but I'll still be around posting memes as usual.
Working on all three Leagues has been such a journey and I can't wait to experience many future Leagues as a player. I was considering making a joke about Last Recalling back to Sweden, but I'll save you the cringe.
I have nothing but love for the game and team. Thank you for making my time here incredibly special.
Incoming Mod alert! Mod Hornet has joined as a Junior QA Analyst.
Hello Everyone!
My name is Mod Hornet and I have recently joined the Jagex Junior QA Analyst team through the government kickstart scheme. I'm a recent Computer Game Design graduate, though I started my game career journey back in 2016, working myself through an NQ after deciding to shift my career path from legal services to a more creative and dynamic outlet: game development!
My interests and hobbies are quite varied and include BJD customisation, where I repaint dolls I find at charity shops before rehoming them. I also got my awesome future granny skills in crocheting cute amigurumis, and obviously playing video games.
I want to thank everyone for being so welcoming so far. I'm excited to be part of the team at Jagex and can't wait to start contributing!
Postbag from the Hedge
Hello adventurers! It's me, Postie Pete, back again with another selection of questions and answers from all over Gielinor. Once again I've been all over the place, from Mount Karuulm to West Ardougne. Let's see what I've got in my bag!
Dearest Kaal-Mej-San, Kaal-Ket-Jor and Kaal-Xil-Dar,
I understand that what I've done for you so far is truly nothing in the grand scheme of things, but I hope it is enough for you to trust me with the answer to the following question:
How were you three capable of traversing from Mor Ul Rek to Mount Karuulm? From what I know from the TzHaar of Mor Ul Rek, exiting the volcano brings your kind to a deadly low temperature. That's not even counting the fact that there's an entire ocean between here and there!
Your friend, Zacflame
(Note to Pete: It is extremely hot down there, be careful!)
Human,
Your understanding is correct. We will answer still.
We chose our new purpose long ago.
Eons ago.
When the ocean was only a stream.
When this world did not sprawl.
And was quiet.
Many things have changed.
But the balance remains the same.
(You weren't kidding, Zacflame! Luckily these old bones are tough. Onto the next letter!)

To Altarkiz,
Is it true that you're a Bedabin Nomad? Why have you come so far from the desert? What are you concentrating on? Are you enjoying your trip?
From Deztv
Huh?
Oh, yes, I'm from the desert. Haris and I signed up with Captain Tock's crew because we were looking for some real adventure. As soon as I'm done meditating by counting these blades of grass, we can get back to it! I'm on number 25,921. Or was it 25,922? Uh oh...
Altarkiz
To the esteemed Harold Death Esq.,
How is Nieve getting along? I hope she is coming to terms with her new environment and she treats Muncher well. Let her know I sent Glough her way.
Kind Regards, Ingus Wraith
Dear Ingus Wraith,
Nieve? I'm afraid she moved out of my jurisdiction long ago. One moment – I'll contact my colleague and see if he can provide some insight.
Hmm. I see.
It seems your friend has been doing valuable work in the land of souls. The servants of The Devourer cower in her presence! I imagine that's a great weight off my colleague's shoulders.
And although I'd rather not speculate on the affairs of the dead, I should think this Glough person is in for a world of trouble.
Yours,
Harold Death Esq.
(And Muncher)
Dear Dusuri,
Lately I've really been getting into hunting down those mysterious hunks of space rock that fall from the sky every so often. It's quite fun tracking them down and chatting with the other adventurers that come across them. The rewards you provide in exchange for the dust from these rocks is certainly a nice incentive; These golden duds are quite stylish, and I've had no trouble keeping stocked up on gems for my adventuring needs thanks to you.
I have to ask though, what do you do with all that stardust? Us human adventurers can't do anything with it on its own, but you claim to specialise in the stuff. I'm just curious what's so useful about this dust that you're willing to part with so many precious gemstones to acquire more of it?
Take care! I'll see you next time I've got more stardust for you.
From Cambria Bold
Dear Cambria Bold,
Glad to hear you've been enjoying tracking down those meteors! You've saved me and the others a lot of hard work. The kit is nice and shiny, isn't it? I'll let Belona know you're a fan. She smithed it all herself, you know.
Stardust? I study it! It's packed full of minerals from, well, you know – other worlds. I've got this special tool that looks a bit like a reverse telescope, and it lets me get a closer look at the particles that make up the Stardust. The bits and pieces it contains were born in the hearts of dying stars and paint a picture of the universe from its earliest moments. Then it's just a matter of comparing them to the regular dust we get here in the mines! It's amazing to think that everything - from distant worlds to the dinner on your plate or the cat on the mat - is built from the very same stuff. It humbles me and reminds me that our problems really aren't so big... in the grand scheme of things, at least.
You take care too. I'll be waiting!
Your friend,
Dusuri
Dear Reshi, Thomdril and Kendall,
When I was last visiting Kourend, journeying out of Kingstown, I couldn't help but overhear the lovely music echoing throughout your camp. I stopped by and we spoke briefly. You informed me of your travels from the kingdom to the south, and how you were students of the College of Bards.
I wonder if you could tell me a bit more about that? What's the college like? Do many bards come from or pass through there? What's your favourite thing about the place? And what's life like as a bard? I've yet to visit the city of Tempestus where the College resides, but I've heard good things.
I must say, I'm quite jealous of your musical talent. I did once try to put on a show for the Fremennik people using their preferred instrument, but I must confess that I resorted to performance-enhancing magic to make up for my lack of skill. Shameful, I know.
Perhaps one day I'll visit the College and get the right tutoring to properly learn the ways of the bard.
Yours sincerely,
GentleTractor
Dear GentleTractor,
Hey, we remember you! Always nice to hear from a fan.
The College is just lovely. I've many happy memories from my time there, learning new instruments, memorising the great ballads… nights out in Tempestus… if you're ever in Varlamore, it's well worth a visit.
Bards come from all over the world to study there and visit the library. Often they bring their own contributions. That's what being a bard is all about – travelling the world with your companions and finding new stories to write. Or making up your own.
There's no shame in a bit of stage fright. Being a bard isn't easy, and if those Fremenniks were anything like the ones I've met, you had some tough competition.
The college is open to everyone with a story to tell… and it sounds like you've got quite a few, so I'm sure you'll fit right in. Maybe we'll see you there when we're done with our tour?
See you around,
Reshi
Dear Drill Sergeant,
You look ripped. What's your workout regimen? Do you think Alathazdrar the demon butler could outrun you?
Sincerely, Fruitbooting.
Atteeeeeeeeen-shun!
Private Fruitbooting! You'd have a better grip on the fundamentals of fitness if you actually attended our training sessions! Star jumps! Sit-ups! Push-ups! Jogging! That's all you need to achieve peak physical health!
As for Alathazdrar – that noodle-limbed ninny couldn't outrun a snail, and if he has a problem with that he can take it up with me!
Now – drop and give me five! Lest you end up like your muscle-less pal here!
To Postie Pete,
I've seen you on many of your routes delivering your letters. One thing I was curious about was your top secret visit to the Wilderness's Bandit Camp. What were you doing there?! You acted quite suspiciously, especially when you said the Chaos Elemental was behind me and vanished. What are you hiding?
Sincerely, Venomous.
Sorry, Venomous – if I had ears, they'd still be ringing from all that shouting! What's this about camping?
The Bandit Camp? In the Wilderness?
Oh, er – golly, look at this! There's one more letter left in the bag. Let's forget all this secret mission nonsense and have a look.
To Whom It May Concern
You can give cats to citizens in West Ardougne in exchange for Death Runes. The citizens claim that they use the cats to hunt rats in the area. The players believe that the cats are eaten by the citizens. Which is it?
Yours, Mod Zuko
Dear Mod Zuko,
First of all, how dare the gossipy goblins of Gielinor spread such horrible rumours about our poor, impoverished town? We might live in a plague-infested slum, but we still have our principles! We love cats here in West Ardougne. They might keep themselves to themselves, but we assure you, our cats are hale, healthy, and busy whittling down the mouse population. We've hardly had anyone die of the plague lately, and it's all thanks to our beloved moggies.
Frankly, we are appalled at this accusation, and invite any adventurer who wishes to see how kindly we treat our cats to explore our community-led cat café once it opens to the public.
Yours,
Siv Illian, on behalf of the West Ardougne Cat Appreciation Society
That's all from Postie Pete for now! There will be a new Reddit thread soon where you can submit letters for the next Gazette, so keep your eyes out for that!
Player Creation Showcase
We're back with another batch of your biggest and best pieces of creative work! Every individual featured in the Gazette will receive six months of free membership as thanks for their superb efforts, so keep an eye on the linked social accounts inbox for more details on how to grab your reward!
If you are looking to be featured in the next Gazette then make sure to submit your creations through our Player Showcase Gallery Form and state what Gazette you would like it to feature in. We look forward to seeing more of your incredible talents!