If you like pina coladas... or getting caught in the rain..
Then tough luck! This week's Summer Escape is no island getaway – you'll be hacking and slashing your way to those 99's, with a fair few bonuses on the way.
Read on to find out more!
Summer Escape: Combat & Slayer
This week is all about Combat & Slayer. Bash some rats, mage some dragons, and range a whole range of beasties! From 00:00 on August 12th to 23:59 on August 18th, you can enjoy the following bonuses:
Increased chance of rare drops and enhanced lucky items
All charm drops give one more charm than normal
Shattered Worldsgrants 100% extra shattered anima
Ability to loot from Mazcab Raids once per day
25% increased drop rate of torn grimoire pages from Solak
All Slayer assignments are treated as using a Slayer VIP ticket
25% increased Slayer experience (includes reaper assignments)
Choice of boss slayer assignments
10% increased Ushabti catch chance
While you're travelling around from dungeon to dungeon, keep an eye on those lodestones. Once every hour, certain lodestones will receive balloon drops containing Silverhawk feathers, summery snacks, and more!
Don't forget that from 12:00 on Friday to 11:59 on Monday the following boosts will also be in effect:
One free clue reroll a day
Double skill outfit fragments
Double Menaphos rep
Double thaler
Double slayer points
Half boss instance cost
Chance of mystery boxes when skilling/killing
And if that's not your thing, you'll find a variety of buffs in place on the Player Owned Farm:
10% increased chance of breeding animals
5% increased chance of shiny animals
10% happiness and health increase from feeding
Double item yield from harvested animals
10% more beans from selling animals
10% Increased drop rate of animals from combat
Honeycombs are 50% more effective when used on animals
Twitch Prime
We've once again partnered with Twitch to bring you a whole lot of exclusive in-game rewards as part of the Twitch Prime loot! And this month, each and every one of you who's a Twitch Prime member can grab a free Umbral Pack (Umbral Waraxe, Umbral Akh and Umbral Wings). How to redeem your gains? Simple, follow the link below and make sure you follow all steps of the process:
RuneFest 2019
RuneFest 2019 will be a blast from the very distant past as visitors take a dangerous journey into The Land Out of Time. Expect dinosaurs! And carnivorous player-eating plants! As you're travelling around a real-life slice of the island you can look forward to hands-on time with new content, talks and meetups with the JMods, loads of panels, a dedicated LAN area, an art area for meeting the creative teams and of course some very big surprise announcements on the main stage. We're also bringing back skill chips!
The Official RuneFest 2019 Tees and Hoodies are also available for pre-order (until Sunday August 18th)!
This year's explosive design is inspired by the majestic volcano that can be found on both Fossil Island and the Land Out of Time. It's the perfect thing to wear while you're roaming the prehistoric jungle and excavating fossils at RuneFest– or while you're hacking through the weeds in your own back garden. We don't judge.
If you've already bought your ticket for RuneFest 2019, we've sent you an email with further instructions. Check your mailbox! If you haven't bought your RuneFest ticket yet, you'll be able to add your chosen items to your order before checkout.
Pre-ordering saves you money on non-personalised tees (£2 off event RRP) and hoodies (£5 off event RRP). It's also the only way to get your tee personalised and guarantee a tee or hoodie in your size. XXS, S and XXL and XXXL non-personalised tees are only available to pre-order.
Player Gallery Competition
Entries for the LOoT Player Gallery competition have now all been sorted and the results are in! We would like to thank all of you who entered the competition. We have never seen such amazing entries and choosing winners has never been so difficult. So without further ado, here are the winners:
1st place: Magenixy - You win 1 Month RS Membership, the RS Official Soundtrack Vinyl, and a Map of Gielinor Deskmat!
2nd to 5th places: Mavrick882, Well Miller, Calcarb, Milc - You all win 1 Bond & RS Goodies!
Honorary Mention:
Enkoro
- You win RS Goodies!
And if your name has not been selected, don't worry. There'll be plenty more opportunities in the near future to celebrate all your artistic talents. In fact, if you've got the eye for capturing in-game screens, you can head to our Twitter channel right now and enter our weekly RSScreenies competition!
Email Competition
Did you know that our newsletter subscribers get the chance to enter exclusive competitions? And this month, we are offering an official RuneScape tee coming straight from our merch store. So keep a close eye on your inbox!
How to enter? Well it couldn't be simpler: just make sure that you've subscribed to our communication updates (check your account), and wait for the email we'll send starting tomorrow.
This is one of the exclusive perks our newsletter subscribers can start to enjoy, there will be many more coming in the next weeks (#spoilers).
Facebook Companion
Our Facebook fans can now enjoy a whole new RuneScape experience: the RS Companion! Whether you want to get the best out of the Land Out of Time with some quick info, explore helpful Guides displayed in the Grand Library, never miss future announcements around RS Mobile or RuneFest 2019, grab exclusive Membership offers (even free stuff!) or need Support, the RuneScape Companion has your back!
LOotScape
Our live streams are always a great opportunity to grab some awesome in-game prizes. And as our first adventurers set foot on Land Out of Time (or as we call it "LOoT"), we thought you'd like an update of the LootScape. Ok, roll the drums and behold… our LOoTScape!
This month, each and every RuneScape stream watched will give you a random drop from one of the following:
Guaranteed:
1 - 2 hunter marks
250 resources in a random Base Camp resource
Guaranteed drop from Basic Drop Table (see below)
View counter goes up on Orb
Chance based:
A random skilling outfit piece (if unowned)
Either Nature's Balance or Loots Cape (if unowned)
Basic Drop Table: Prismatic small fallen star, Prismatic medium fallen star, Prismatic small lamp, Prismatic medium lamp, Spirit Ruby, Spirit Diamond, Advanced Pulse Core, Spring, Silverhawk down, Medium DG Token Box, Small DG Token Box, Uncut Dragonstone, Large Cash Bag, Medium Cash Bag or Small Cash Bag.
Exciting isn't it?! So don't wait up - connect your RS account to your Twitch account and find out more here. Once that's done, have fun and watch our streams during the day for a guaranteed drop.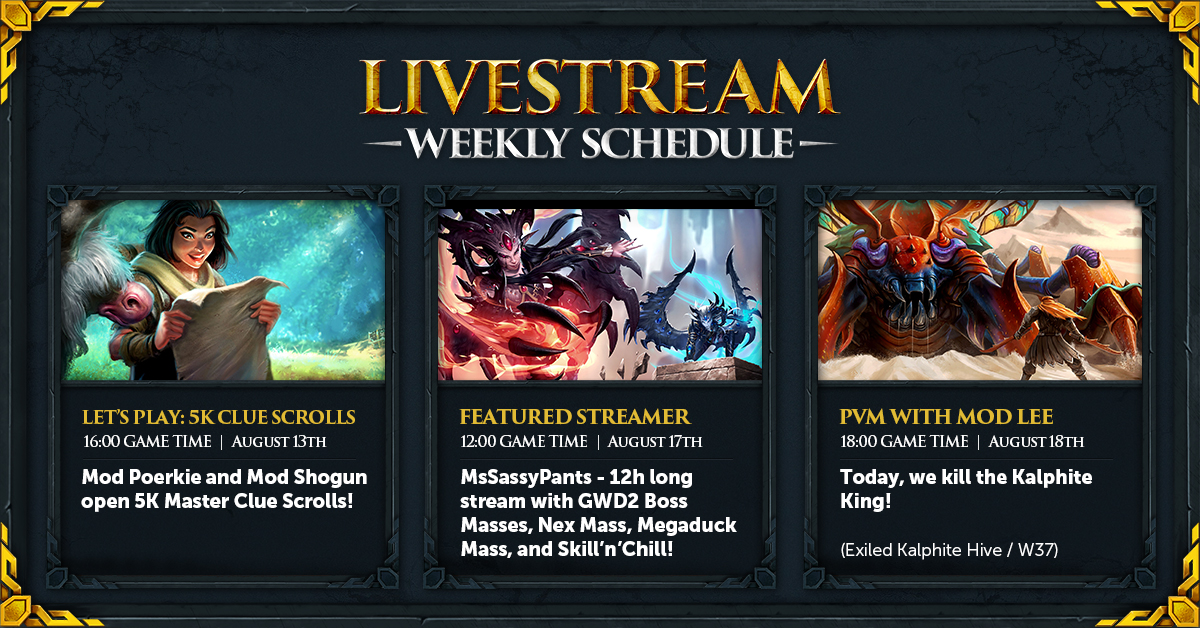 Tuesday, August 13th – 16:00 UTC (Game Time) – Let's Play: 5K Master Clue Scrolls
Time is of the essence when it comes to scaping and we're sure that you'd love to get the most of your second week of Summer Escape (Combat & Slayer buffs!) without getting too much of your head into anything else. That's why for this Tuesday, Mod Poerkie and Mod Shogun have decided to hop on the PCs and host a laid-back 5K Master Clue Scroll opening stream!
Of course, we'll also cover all the other topics that the community has talked about in the last days – Sigils and Clan Cup included – and we'll take questions from the Twitch chat.
LootScape will be enabled (see all details above).
Sunday, August 18th – 18:00 UTC (Game Time) – PvM with Mod Lee
Our resident PvM expert Mod Lee knows no fear and he's ready to take you all on another round of boss mass. From Vorago to the Kalphite King, the Corporeal Beast, the Angel of Death, if you've got a set to complete, an achievement to unlock, or simply want to hang out with friends and slay some, this is the place and time!
LootScape will be enabled (see all details above).