This week we're celebrating Old School Mobile's first birthday, and adding hotspots to the Bounty Hunter Beta!

Old School Mobile's 1st Birthday!
It's been one whole year since we released Old School Mobile! To celebrate, we've transformed the fountain at Varrock centre into a giant cake! Make sure to pay it a visit and grab yourself a slice.

Bounty Hunter Beta: Hotspots
We've added 13 hotspots scattered across the Wilderness to the Bounty Hunter Beta. One of these will be active at any given time, with its border marked by glowing orbs. Killing your targets within these hotspots will yield much higher rewards than usual.
To be eligible, you'll need a
minimum combat level of 50
and to be
carrying a Mysterious Emblem
of any tier. Bounty Hunters will receive messages when a hotspot is due to change at 10, 5 and 1 minute before.
Bonus Points
For a normal target kill, you'll receive 3, 4 or 5 BH points depending on your killstreak. If you kill your target
while in the hotspot
, you'll get triple points. Bounty tasks will also give 30 points instead of the usual 10. This bonus does not apply to the milestone points.
Emblem Bonuses
If you have a killstreak of 2, killing your target in the hotspot will upgrade their emblem as well as your own. Usually, only your emblem would be upgraded and the target's emblem would be destroyed.
While on a killstreak of 3 or more, both you and your opponent's emblems will be upgraded upon a kill in the hotspot.
Locations
The hotspots will rotate between the following locations: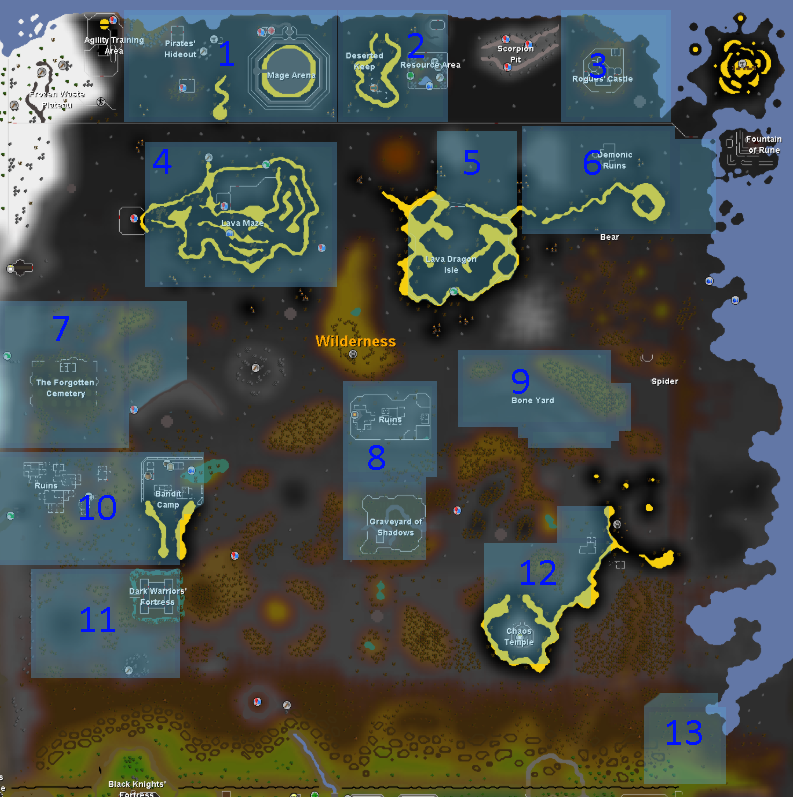 1. Mage Arena and Pirate's Hideout
2. Resource Area and Deserted Keep
3. Rogue's Castle
4. Lava Maze
5. Lava Dragon Isle
6. Annakarl
7. The Forgotten Cemetery
8. Graveyard of Shadows and Ruins
9. Bone Yard
10. Bandit Camp and Ruins
11. Dark Warriors' Fortress
12. Chaos Temple
13. South-eastern Wasteland
Other BH Beta Changes
Bounty Crates
Loot crates have been added to the Emblem Trader's shop. They cost 5 points each and contain a variety of PK-ing supplies and occasionally an Ornate Maul Handle or Mysterious Emblem of any tier. We're also giving you 500 points to spend whenever you log into the Beta to test out the crates and let us know what you think!
Player Bounties
The following tasks have been added to the list of player bounties:
Kill your target without using Chivalry, Piety, Rigour or Augury
Kill your target with no body armour equipped
Kill your target with no leg armour equipped
Kill your target with no ring or neck armour equipped
Drain 50 of your target's Prayer pointing using Smite before killing your target
Deal at least 150 damage using Melee before killing your target
Deal at least 150 damage using Ranged before killing your target
Deal at least 150 damage using Magic before killing your target
The task requiring you to kill a target without the use of Prayers was changed to 'without the use of overhead Prayers'.
Target Allocation Timer
Bounty Hunter players will now be a assigned new target within 1 minute. This is down from between 1 and 2 minutes.
Archaic Emblems
The Emblem Trader will now look for Archaic emblems in your Bank as well as your inventory. This change affects the live game.

Halloween Merch
Halloween would not be complete without a black cat or two! Check out these Bob the Cat and Evil Bob limited edition pins on our merch store!

In Other News
The PvP World rota is switching over to Period B. On the east of the Atlantic, the Standard PvP host worlds are W25, UK and the F2P PvP world (W71, UK). On the west of the Atlantic, the host High Risk PvP world is W37, USA.
The members-only Last Man Standing world is now world 492 (USA), and will return to world 317 (UK) in two weeks when Period B ends. Similarly, a non-members LMS world has moved from world 169 (USA) to world 326 (UK) for the duration of Period B.
The clickzone of the top of the ladder in Motherlode Mine has been improved.
The Bounty Hunter interface should no longer appear in games of Last Man Standing.
More useful information is now given when using grape seeds on patches that don't accept them.
The player-owned house notice boards will now remember your chosen sort order rather than defaulting to an alphabetical sort every time you play.
A grammatical error has been fixed in the Halloween event.
A grammatical error has been fixed in the melee combat tutor's dialogue.
The leg piece of the Ankou set has been renamed to "Ankou leggings" for consistency with the other items in their set.
The Agility XP for picking up penguin suits has been made consistent with the XP for picking up toy mice.