Death's Door is this year's Halloween event, and you can play it in RuneScape right now.
Help Death repel a ghostly invasion of his home, using specialised ghost-hunting equipment to dismiss the unwelcome dead before you're reduced to a gibbering wreck.
Earn points and trophies to be spent on XP lamps, gear that gives bonus damage against ghosts, the ability to burn bones on a bonfire for Prayer and Firemaking XP, and more.
Read on for the full, gory details!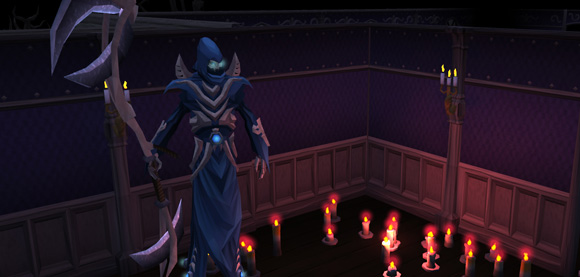 How to Play
Find Muncher by the Burthorpe Lodestone, and speak to him to head to Death's house.
When you get there, you'll find that Death's beset by an invasion of ghosts - unleashed by Melzar the Mad - and that he's powerless to exorcise them himself.
He'll hand you a proto pack - the very latest in ghost-hunting technology - and set you to work banishing his unwelcome guests.
Examine the furnishings and ghosts will start to manifest, but beware: each hit you take will increase your fear meter - displayed in your minigames HUD window.
If the fear meter hits 100% you'll run screaming back to Death, and lose 20 of your hard-earned reward points.
You can reduce fear gradually by standing in moonlit areas of the house, or by using comforting items found in chests around the house.
Some ghosts are tougher than others and some have insidious special abilities, but the stronger they are the more points you'll earn for ousting them. Refer to the Ghostpedia from your minigames HUD to find out more.
Rewards
Chests will appear around the house every 10 minutes. You'll be told via the minigames HUD when there's one to find, and you'll have two minutes to get to it and claim its loot. They can contain:
Chocolates, teddies and night lights: comforting items that reduce your fear level when used.
Active ectoplasm: grants a temporary buff to your damage against the ghosts in the event.
Demonic traces: five of these will let you summon demonic ghosts - the scariest and most rewarding spectres you can face.
Ectoplasmators: there's a rare chance to get this handy item - which gives Prayer XP when fighting ghosts - if you don't have one already.
Ghostly essence: this very rare substance can attune your ectoplasmator (or recharge one that's already attuned), improving its abilities.
Other loot: including bones and seasonal sweets.
You'll get points for each ghost you dismiss. Muncher or Death will give you the following rewards in exchange for these:
Ghost hunter gear: a four-piece hybrid set that gives bonus damage and combat XP against ghosts fought outside the minigame. Its stats increase at level 50 and 70 Defence.
Cremation ability: this permanently unlocks the ability to burn bones on bonfires, granting you Prayer and Firemaking XP.
Large XP lamps.
Dismiss the dangerous demonic ghosts to earn up to one trophy a day, and spend them on the following rewards:
Ghost Hunter title.
Proto Pack emote.
Large XP lamps.
Finally, you'll unlock a set of proto pack cosmetic overrides for daggers, claws and crossbows, once you've dismissed 50 ghosts.
Get hunting those ghosts, and watch out for our terrifying Halloween quest - coming next week!
Join in the discussion on the forums and let us know what you think.
Mod Wilson and the RuneScape Team
In Other News
We've made the following changes to the Flash Powder Factory minigame:
You'll no longer incur a penalty if you leave the game early.
The price of rogue armour has been lowered by 10% of its original value.
Claiming XP rewards from Flash Powder Factory will now work with bonus XP modifiers.
The rubble is now easier to see.
Thieving XP bought from the Flash Powder Factory is now 1750 XP per 10 points, up from 1200 XP.
Herblore XP gained within Flash Powder Factory is now scaled based on the your Herblore level.